2016 IAET Humanitarians – Alan and Marlene Comella
IAET Bio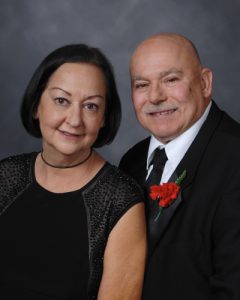 Alan and Marlene Comella
Alan and Marlene Comella grew up together as friends since the age of 5 at 21st and Wesley in Berwyn. Alan is of Italian descent, while Marlene. is of Czech descent.  Their families were friends and traded traditional recipes over the years. Alan's uncle, Joe Caputo, had always told him "You're going to marry that girl someday!" At that time Alan thought his uncle was crazy, but he turned out to be right.
They were married in 1972,44 years ago. If asked what their greatest accomplishment in life was, their response would be their daughters, Kim and Tammy.  Naturally this would be followed by their 6 beautiful grandchildren, Mariano, Vittoria,  Alessia, Olivia, Luigi, and Joseph.
Their next greatest achievement in life together would be Violet Flower Shop in Berwyn. Since 1978 the flowers shop has been operated as a family affair, raising both children and grandchildren there while building a successful business. Parents, sisters, nieces, nephews, and of course children and grandchildren have all, at some time been added as an addition to the regular workforce. Holidays in a flower shop are hectic, and any helping hands are gratefully welcomed. The flower shop became "Their Baby" and they worked long hours, 7 days a week, to nurture and watch it grow. In recognition of this effort, they have been featured in Checkbook Chicago, and most recently Chicago Magazine. Although this work was demanding of their time, family was always an   important constant in their lives.
Being part of a community, however, you also develop great feelings, relationships, and responsibilities for the people you have encountered over the years.
So giving back to the community became a meaningful part of their lives. First a cousin, then their long-time employee and friend developed Breast Cancer. Not long afterwards, it was two more cousins and three more friends during the same year. Besides emotional support, there was a feeling of needing to do something about this- but what?
While observing so many beautiful pink varieties of flowers at a trade show, the idea for "Flowers for Hope" was born. They did their research, and found the Breast Cancer Research Foundation to be the best organization to benefit from their support.  Their mission is to prevent and cure Breast Cancer by advancing the world's most promising research, and became their mission as well. Three of their five relatives and dear friends had now lost their battles. This was unacceptable. What started then as an in-house event has now blossomed into a street festival, complete with stage, live musical entertainment changing hourly, raffles, food, drinks, T-shirt, candy, and bakery sales. Each year brings additional efforts to raise money for their cause. Alan heads the planning committees, culminating as coordinator on event day. His job doesn't end until tear down is completed. He personally goes to all Berwyn businesses, hanging posters and seeking donations. Once again, family and friends assist them in making their event a continued success. At their events, they recognize both Fighters and Survivors with a gift arrangement of pink flowers. Also, they honor their Angels with a candlelight bagpipe ceremony.
It takes many hours of hard work to accomplish this while operating the business simultaneously. With the help of the City of Berwyn, their Community, and all of their supporters, their endeavors can be considered a success. Each year they have continued to raise increased funding. This year is their 7th Annual "Flowers for Hope."  They have become a part of the lives of each person who tells them their story, their journey, their fight, or their loss. They will continue their goal of raising more funds each year until the battle is won, and they are part of the "The Cure". So you see, they have been able to change hopelessness into hopefulness for themselves and others.
Their ability to use Violet Flower Shop has benefitted other programs as well. On June 4, 2011, Disney funded the building of a new park in Berwyn. One of their requirements was a 850 square foot children's vegetable garden. Violet Flower Shop also has greenhouses and a garden center. Using their expertise they were instrumental in designing this garden. Because it's use was to be an educational tool for children to learn gardening, healthy food choices, and their place in our ecosystem, Marlene took the lead in "Project Grow". Using her background in Education from DePaul University she voluntarily teaches each week throughout the year to accomplish this task. For these and other community endeavors, she has earned the Berwyn's Charles E. Piper Award for Business excellence with community involvement.
Alan has spent endless hours of involvement with the Columbian Club of Chicago, serving 2 two year terms as a Board of Director. He served as a member, as well of serving as a Board of Director for the Italian American Executives of Transportation (IAET). He served on the IAET committee for their Fashion Show Fundraiser in 2015 and 2016. He is a member Italian America Club of Berwyn and Order of the Sons of Italy, as well as a former board member of the Berwyn Development Corporation. Alan pours a tremendous amount time and effort in his volunteer work. He is generously committed to countless giving of himself as well as contributing to charitable causes to help the less fortunate and the community.
As a couple, Alan and Marlene complement each other well. Their careers enable for them to creatively express thoughts, words, and feelings of others through floral design. It is very rewarding to be able to help people in times of both joy and sorrow. They will continue to operate Violet Flower Shop as both a growing business, and an opportunity to reach out to and benefit their community.
***