2008 IAET Man of the Year – Michael A. Tadin, President, Marina Cartage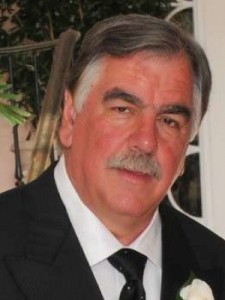 Michael A. Tadin
President Marina Cartage, Inc.
Michael A. Tadin is truly honored to be selected Man of the Year for 2008 by the Italian American Executives of Transportation.
As President of Marina Cartage, Inc., Mr. Tadin has overseen the growth of the Company from its humble beginnings on Chicago's South Side to become a transportation leader that serves numerous industries across the Midwest.
He has led Marina Cartage for more than 30 years. Next year, the Company will celebrate its 50th anniversary in business.
Mr. Tadin took over the Company after the death of his uncle, Tony Bertucci, in 1977. The Company, though then modest in size with 18 trucks, had ambitious plans. Originally operating from a warehouse facility equipped with a garage at its rear at 4335 S. Western Blvd, the business soon needed more space and operations were moved to 2901 W. 31st Street. The business expanded and the Company again outgrew its location, necessitating a move in 1996 to its current base at 4450 S. Morgan Street.
Today, its transportation and logistics services continue to broaden. Its customers span a range of industries, including energy, inter-modal logistics, construction, road-building, medical supplies and waste management. Among them are Chicago industry leaders such as Commonwealth Edison, People's Gas, and Waste Management, Inc., for which he is the primary transfer hauler in the Illinois area. They also include GE-TIP Trailer; BNSF-the Burlington Northern Santa Fe Railway; the international shipping companies APL, Maersk Line, and COSCO Container Lines; Wilton Industries; Pioneer Hi-Bred International, Inc.; and Cypress Medical Products. The Company offers U.S. custom-bonded carting as well as specialized chassis equipment.
Under Mr. Tadin's leadership, Marina Cartage's inter-modal and transfer fleet has grown to more than 300 vehicles and heavy equipment operated and maintained by approximately 400 employees. The inter-modal division serves rail yards in Chicago and Joliet, moving containers from the freight depots to logistics centers for customers in nine states across the Midwest. The Company maintains about 150 acres for storage of inter-modal containers in the Chicago area. In 2007, its waste division transferred an estimated one million tons of waste for Waste Management to disposal facilities in Illinois, Indiana and Wisconsin.
The Company's construction division operates more than 100 five- and ten-ton dump trucks. It also operates heavy equipment including front-end and track loaders, road grinding and tanker equipment. Among its customers are Walsh Construction of Illinois, F.H. Paschen Construction, Brandenburg Industrial Corporation, John Keno Construction, D.M.D. Demolition, Benchmark Construction, and Elgin Sweeping Services. At the heart of the Marina Cartage operation is its modern 10-acre transportation center on South Morgan Street.
For Mr. Tadin, the Company's success has been rooted in family, community and customers. He grew up just north of Armour Park in the 3200 block of South Princeton Avenue. Three generations of his family are from the Bridgeport community. His maternal grandmother had 16 children. All lived in the Armour Park neighborhood, immediately north of the old Comiskey Park.
He learned the value of hard work early from his parents and aunts and uncles, members of the greatest generation whose ethnic values and dedication made a strong impression on him. His mother, born Mary Bertucci, and her family came to the United States from Calabria in Southern Italy. Now 84, she retired only recently.
His 84-year-old father, Anthony, is of Croatian heritage. His family came from Split, Croatia along the Adriatic Sea. Anthony Tadin worked two jobs as a night watchman and city transfer truck driver to provide for his family. He recalls his father, a Korean War veteran, walking downtown to work.
"Family is everything," Michael Tadin says. "You must remember where you come from."
Under his leadership, Marina Cartage is committed to meeting his customers' transportation and service needs. He is proud of his employees, their experience and ability to tailor transportation solutions for their customers. In describing Marina Cartage, he focuses on the reliability and experience of his staff and the customer satisfaction they offer the Company's customers.
"You're only as good as the people working for you," he says. Mr. Tadin acknowledges that he could not have grown Marina Cartage by himself. "It took a lot of dedication and hard work." Dedication and a willingness to work hard were lessons he learned early from his parents, he says.
Mr. Tadin's son, Michael, Jr., works in the Company, supervising the road grinding division and real estate section. He represents the third generation of his family to be involved in the business.
Mr. Tadin is a proud Chicagoan. He recognizes the need and importance of giving back to his community, a charitable philosophy promoted in the Tadin household. He actively supports a number of charitable and educational organizations. Among them are St. Jerome's Grammar School and De LaSalle Institute, where he attended grade and high schools, respectively. He also supports the Bridgeport neighborhood's Valentine's Boys and Girls Club of Chicago, Santa Lucia Church, and the Misericordia/Heart of Mercy Home.
Mr. Tadin and his wife, Lee, live on Chicago's North Side. In addition to his son, he has a daughter, Christina, 14.
###