2009 IAET Man of the Year – Christopher Cacciatore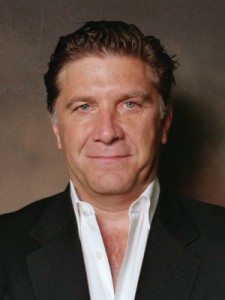 Christopher Philip Cacciatore
President, Elgin Sweeping Services
Christopher Peter Cacciatore was born in 1964 in River Forest, Illinois. The seventh of 10 children born to Victor and Charlotte Cacciatore, Chris is part of a large Polish-Italian family. His grandparents on his father's side emigrated from Italy, while his maternal grandparents came from Poland.
Early on in his working life, Chris learned the values that have shaped his approach to business: family, service, and commitment. Upon graduation from Dominican University, Chris went to work for Hunter Alliance, a general contractor for residential properties that his father had started a number of years previously. Starting truly at the bottom by working as a laborer, Chris came to appreciate the effort many individuals must expend every day to do their jobs properly, and recognized just how satisfying it is when one works hard and finally sees the fruits of his labor grow.
Those lessons were invaluable to Chris when he assumed the Presidency of Elgin Sweeping Services, another of his father's family businesses, in 1996. Chris immediately set out to expand the business, and quickly realized that a 'customer first' focus is essential in a service industry. Chris literally drove down that value to all throughout his company, by, at times, jumping behind the wheel of a sweeper when necessary to please a difficult customer that required a personal touch.
Under his watchful guidance, Elgin Sweeping Services has grown dramatically in a number of ways. The largest independently owned sweeping company in the Midwest, Elgin Sweeping now boasts a fleet of over 100 multi-use vehicles, including street sweepers, pickup trucks, high pressure water flusher trucks, dump trucks, and vacuum trucks. This arsenal of vehicles allows Elgin Sweeping to service a broad variety of customer needs, from street and parking lot sweeping, to portering and property maintenance, from sealcoating and pavement marking, to pressure washing and snow removal.
Even though Elgin Sweeping has grown dramatically, Chris has not lost sight of that key ingredient behind his success: a personal touch that shows all customers just how valued they are. As a direct result, Chris makes himself available to customers day and night so that he can better understand their changing needs.
As committed as he is to his customers, Chris is equally committed to his employees. Displaying a value that he learned from his father, Chris proudly looks upon all his employees as his 'extended family', and treats them with respect and care. As the proud father of two, a ten-year-old son Chris, an eight-year-old daughter Sophia, he understands the importance of personal growth and progress. Chris has therefore taken a personal interest in his "extended family' by often insisting upon and paying for their continuing education.
"Chris has a heart as big as that ice maker," said Chris' older brother Joe, pointing to the ice-making machine in a restaurant recently. "He'd do anything for you." This big heart is what makes Chris an exceptional choice for "Man of the Year".
###