2012 IAET Humanitarian – Reverend Anthony Benedetto Pizzo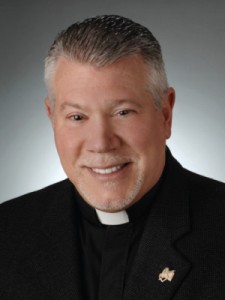 IAET 2012 Humanitarian –
Reverend Anthony Benedetto Pizzo

The Reverend Anthony Benedetto Pizzo, a priest of the Augustinian Order, is a native of Chicago's Southwest Side. He was raised as one of five children of Anthony N.(†2011) and Gilda Salvione Pizzo. He is the grandson of Italian immigrants who arrived to the United States in the early 1900's.
He received his Catholic education at St. Rene Goupil Parish elementary school and continued to JFK High School in Chicago. In 1978 he matriculated at Villanova University in Philadelphia. After receiving his undergraduate degree in Philosophy, he entered the Augustinian Order and professed religious vows in 1979 and continued on to Catholic Theological Union where he received a Master of Divinity degree. Afterwards he was ordained a priest in May 1984 by the late Cardinal Joseph Bernardin in Chicago.
His first years as a priest were spent as parochial vicar in Detroit, Michigan and then in Kenosha, Wisconsin. He then was transferred back to Chicago' Southwest Side where he has been since 1991 serving a growing immigrant population by committing himself to social justice issues that impact the local community.
In 2001 Fr. Tony returned to the Catholic Theological Union where he began Cross-Cultural Studies at the post-graduate level. He served as Director of Spiritual Formation for the Instituto de Liderazgo Pastoral for the Archdiocese from 2004 to 2006. Afterwards he was assigned to his present ministry in the Chicago Lawn/Marquette Park area of the city where he presently serves as Pastor of St. Rita of Cascia Parish as well as the Dean of Deanery A of Vicariate V of the Archdiocese of Chicago.
He is currently a member of the Board of Directors for the IAET and the IAET Charitable Foundation, as well as serving as chaplain.
In his service, Fr. Tony has devoted himself to comprehensive and compassionate immigration reform by participating in Priests for Justice for Immigrants and by initiating a developing outreach to the immigrant community. He is a local leader in both community building and community organizing with the Southwest Organizing Project. He has collaborated in anti-violence initiatives such as Ceasefire, whereby he received a City wide award in 2001 and again in 2008 in his work toward outreach to street gangs. In 2009, he was one of three Catholic pastors in his Deanery to receive a "Community Heroes" Award by the LISC/New Communities Program of Chicago as well as being named as one of two recipients for the Neighborhood Leadership Award of 2011 by the Neighborhood Housing Services. In 2010, Fr. Tony received the Blessed Pope John XXIII award in recognition of his priestly dedication to Hispanic ministry in the Archdiocese. He continues to serve the spiritual needs of his congregation as well as that of other faiths by building relationships with the Jewish and Muslim faith-based communities. He has been included in three City of Chicago Resolutions for his work in these areas of service within the community.
He says of his ministerial service: "Involvement in the issues that affect our community in this diverse setting has enriched my ministry and has given me a deeper appreciation of my roots as an Italian-American. The core values of Faith, Family and Relationships continues to contribute to an ever widening perspective of what it means to be catholic, that is, universal. By participating in the life of the local community, in works of justice and charity reaffirms my belief that by being relational and interdependent reveals the truth that all are created in the image and likeness of God."
###