2005 IAET Italian Civic Pride – Rita L. Mullins – Mayor of Palatine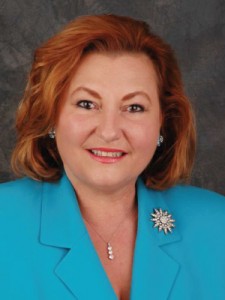 MAYOR RITA L. MULLINS
VILLAGE OF PALATINE, ILLINOIS
Mayor Rita L. Mullins was born in Washington, D.C. She attended several grammar schools in different parts of the country before her career Marine father finally settled the family in Palatine, Illinois in 1958.
Rita attended both Bradley University and the University of Illinois and has worked in the Real Estate, Insurance and Banking fields. From 1977-1987, she was the sole proprietor of an antique and gift store in downtown Palatine.
Rita is currently employed as a Director of Government Affairs by the Save-A- Life Foundation, an organization dedicated to teaching basic life saving techniques to children and bystanders.
Mayor Mullins and her husband John, of thirty-nine years, raised their three children in Palatine, and have eleven grandchildren.
Rita was the first woman Mayor in 1989, and reelected in 1993, 1997, 2001 and 2005. She previously served as Village Clerk for eight years. She not only devotes her time to Village concerns but also uses her expertise and skills to serve on the Executive Boards of the U.S.Conference of Mayors, National League of Cities, Illinois Women in Government, Northwest Municipal Conference and the Solid Waste Agency of Northern Cook County.
Rita is also a member of the Board of Directors for the Illinois Municipal League, Greater Woodfield Convention and Visitors Bureau, Northwest Housing Partnership, Roosevelt University and Harper College and a member of various other organizations.
In addition to all Rita has accomplished, she has traveled to Taiwan, Turkey, France and Italy to speak about governmental issues affecting our municipalities with the hope to build closer ties with these governments. Somehow, she has even found time, in her busy schedule, to go skydiving for charity!
###