2017 IAET Humanitarian – Wayne Bubak
Wayne Bubak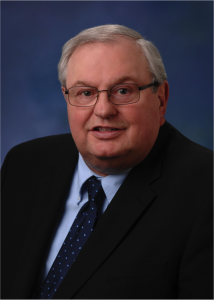 Wayne Bubak is a man of extreme dedication to that which he holds most dear; family, faith, country and charity. He whole-heartedly invests his time, talent and treasure in making the world a better place. Given this and his other attributes, it is no wonder that Wayne Bubak has been selected the Italian American Executives of Transportation 2017 Humanitarian of the Year.
Wayne grew up in Chicago, where he attended Catholic School from elementary through graduate school. He credits his desire to help people to the strong foundation of Catholic values instilled in him during those years. Having started his service to the church as an altar boy, over the years Wayne has continued in assistance to his Church through being an adult Altar Server, Lecture, and as Head Usher for 32 years. He has been a Parish Council and Finance Council Member and rose to the position of Chairman of both Boards. Most recently he became an Executive Committee Member for the Archdiocese of Chicago, in the "To Teach in Christ" campaign pledge program. He has also been an instructor in his parish's Religious Education program. Over the years, Wayne has organized and assisted in numerous social events for the benefit of his parish. He has also served in the Big Brothers/Big Sisters program for disadvantaged children.
He further lives his faith through being a Fourth Degree Knight of Columbus, St. Michael the Archangel Council; which is comprised of many Chicago Policemen and was founded in 1990. They hold the distinction of being the only Knights of Columbus Council of law enforcement officers in the United States.
Wayne is married to his high school sweetheart, Mary Frances, a retired school teacher/administrator who is equally involved in their parish and in bearing witness to her faith through the life she leads. She too attended Catholic School from elementary through graduate school. Over the years she has been a member of Parish Council, an instructor of Religious Education and a member of the Domestic Abuse Ministry for the Archdiocese of Chicago. Together, they are parents of three very successful adult children of their own.
As often is the case with exceptional volunteers, Wayne became involved in his local public School Boards at the urging of community members. Elected to The Northbrook Elementary School Board 27 and later to The Northfield Township High School District 225, he rose to the level of President. He was appointed a member of the North Suburban Special Education District and was on their Governing Board and Executive Board, where he served as the Secretary. On the various school boards, Wayne used his talents by being involved in negotiations and finance.
Amazingly, Wayne was this involved with his family, the Catholic Church, his community and other charities while holding positions of great importance in the service of our country. He was a purchasing agent for the Defense Department and traveled throughout the country in this capacity. For his hard work and dedication he received an outstanding performance award from the Department of Defense.
Wayne then became a U.S. Treasury Agent working in many locations. He once again excelled in this position and was selected to teach at the Treasury Law Enforcement Training School in Georgia. Over the years, Wayne held various duties including Dignitary Protection, guarding Presidents and other dignitaries. His main focus was working with the Federal Grand Jury in the Northern District of Illinois. There his case work involved organized crime, but mainly focused on political corruption cases; with over 100 prosecution reports recommending indictments. He orchestrated the first two prosecutions involving "extortion under official color of right"; using political office for monetary gain. He also developed another theory of prosecution against businesses supported by the Federal Courts. Wayne Bubak received numerous commendations from The U.S. Attorneys Office and outstanding performance awards from the Treasury Department. At retirement, Wayne was the only agent to have received performance awards from all the U.S. Attorneys to whom he was assigned. He is currently working on defense investigations and expert witness work as appointed by Federal Judges.
Currently, Wayne is an active Board member of the Italian American Executives of Transportation and Vice-Chairman of IAET. He is a recipient of the 2016 IAET President's Award. He has been Chairman of the IAET 2016 and 2017 golf outings; raising funds for IAET's scholarship program and other charities. He is still a member of Knights of Columbus and serves as their Treasurer. He is a Board member of the Italian American Police Association and serves as their Treasurer. Rounding out the list of the many organizations with which Wayne is involved, that are extremely focused on charitable events and charitable giving, he is also a member of the Chicagoland Italian American Charitable Organization.
Wayne continues to volunteer his services, wherever there is a worthy cause making him the perfect choice for the Italian American Executives of Transportation 2017 Humanitarian of the Year Award.
***