2005 IAET Italian Civic Pride – Paul Gattuso – Mayor of Westchester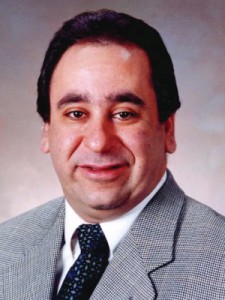 Mayor Paul Gattuso
City of Westchester
Mayor Paul Gattuso was born in Chicago, Illinois, in the old Italian neighborhood of Tayor and Oakley Streets. He is one of six children born to Antonio and Concetta Gattuso. His parents came from the town of Reggio, Italy
Paul, and his family, attended St. Callistus Parish. When he was of school age, his family moved to Cicero, Illinois. He attended Our Lady of the Mound grammar school and graduated from Morton East High School in 1978.
An enterprising young man, Paul started his own business in 1982, "Paul's Pizza and Hot Dog, Inc."
Paul has been a Board Member of the Chamber of Commerce for the city of Westchester, Illinois for eight years. He was then elected Mayor of the city in May of 2005.
He and his loving wife, Angela, have two children. They have a son, Anthony, who is nineteen years old, and a daughter Christina, who is seventeen years old. They all attend Divine Providence Parish in Westchester.
Paul has been a Kiwanis Club Member since 1982 to this present day. He sincerely enjoys the Kiwanis Club and all its members. He feels they are all family. The club strives to be of service to others, especially to children. Their main goal is "Children – Priority One".
As a young boy, Paul remembers the difficult chore of always begging local business owners to sponsor the many baseball teams. At that time, he made a promise that, if he did well in life, he would always help and sponsor local youth groups in his area. Paul has fulfilled this promise over and over as he continues to work with and for our young athletes to this day. We are sure Paul takes care of the various teams when they come into his place of business – whether they have won or lost a game.
Paul has a "big heart", not only for the youth of Westchester, but for all the citizens of Westchester, too.