2004 IAET Woman of the Year – JoAnn Serpico, President, Joint Civic Committee of Italian Americans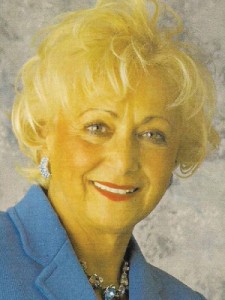 Jo Ann Serpico
2004 IAET Woman of the Year
One of the most dynamic ladies of our Italian Community has honored The Italian American Executives of Transportation Club to be our "Woman of the Year – 2004." Jo Ann is a born leader and extremely active in so many organizations that she has earned the tide of "The Energy Bunny."
Jo Ann is the youngest of three daughters born to Joseph R. and Ella Salerno. She has been a tireless community activist for decades. This comes as no surprise, given the example set by her father, Joseph Salerno, who founded the Italian Welfare Council, the forerunner of the Joint Civic Committee of Italian Americans.
Jo Ann attended St. Mary's Academy in Nauvoo, IL. St. Mary's High School in Chicago, Marquette University in Milwaukee and Worsham College of Mortuary Science in Chicago. Upon graduation, she worked in the family business, Rosario D. Salerno's Sons Funeral Home, which her father and grandfather began.
In 1961, Jo Ann married Philip Anthony Serpico. In the years to come they had three sons, Philip Joseph, Joseph Anthony and Christopher Francis.
She has always been active in politics in her Leyden Township, but is also so very active in the Chicago area Italian-American community, serving as first vice-president of both the Joint Civic Committee of Italian Americans, President of the Maroons Ladies Club, member of the Italian American Women's Organization and the Ladies Auxiliary of the Italian American War Veterans and President of the Calabresi in America Organization.
We thank JO ANN SERPICO for honoring us by becoming our 2004 Woman of The Year.
###