2009 IAET Humanitarians – Joseph and Maggie Glimco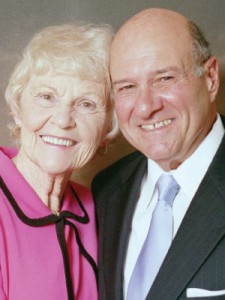 Joseph and Maggie Glimco 2009 Humanitarians
IAET 2009 Humanitarians
Joseph and Maggie Glimco
Joseph Paul Glimco Jr. was born in Chicago to Joseph Paul Sr. and Lena Glimco. His father, Giuseppe Glielmi was born in Campagna, Italy. As was the case of many immigrants a name change occurred at Ellis Island and Glielmi became Glimco. Joe's mother, Elina Pierini was born in Ponte Buggianese, Italy. Both parents arrived in America in 1913.
Mary Marguerite Kelly was born in Chicago to John Kelly and Mary Crilly. Her ancestors were from County Mayo, Ireland and arrived in the United States sometime around 1860. Although Maggie is a non Italian she shares her husband's interest in Italian culture and is an outstanding Italian chef.
Joe is a graduate of Fenwick High School and Knox College. Maggie graduated from Trinity High School and Rosary College (now called Dominican University). They met at a church dance when they were in high school and began dating. The couple began a serious relationship during Joe's senior year of college and soon became engaged. They were married on April 4, 1959 and recently celebrated their Golden Wedding Anniversary.
Their union has proudly produced eight children: Joseph III, John, James, Gregory, Mary Lee, Julie, Peter, and Matthew. They are also the proud grandparents of fourteen grandchildren.
Maggie was a school teacher in the Catholic school system and taught at St. Mary's in Riverside and St. Barbara's in Brookfield. Her teaching career ended with the birth of their first child, Joseph III.
In 1963, Joe was employed as a salesman for the Navajo Freight Line Co. He left Navajo in 1967 to work for an entrepreneur who purchased distressed trucking companies. Joe was part of the team that brought these companies back to profitability, developed long term plans, and then sold them. Joe started Glimco Transportation Co. in 1974. Glimco Transportation was an agency that provided sales and operational assistance for trucking companies involved in the transportation of steel and other related flat bed products.
Joe and Maggie feel that if you belong to an organization you should be an active participant. Both have been extremely active in the groups they belong to and in the
community. Joe has been a fund raising volunteer for Saint John of the Cross Church and Benet Academy. He is a Past President of The Italian American Executives of Transportation and The Springdale Civic Association. He is also a member of the Joint Civic Committee of Italian Americans, National Italian American Foundation, a Director and long time member of The Italian American Executives of Transportation, a founding member of the IAET Foundation, and the Educational Chairman of the Hinsdale Chapter of the Lyric Opera of Chicago.
Maggie served as a Room and School Chairman when her children attended Saint John of the Cross. She volunteered for Fourteen years at SPRED, which is the religious program for special needs children. She worked on many of the programs at Benet Academy and was President of the Women's Club. She has worked as a volunteer for the Courtyards of Hinsdale, a shop that raised money for cancer victims. In 2009, she was named Volunteer of the Year for the Hinsdale Chapter of the Lyric Opera of Chicago were she serves as the Communication Chairman for that group.
In recent years they have been active volunteers for numerous events sponsored by the IAET and The Italian Cultural Center. The Glimcos have participated in Christmas parties given by the IAET for Maryville Academy and the Missionary Sisters of St. Charles as well as a school bag program for Fr. Flannigan's Boys and Girls Town of Chicago. They worked on the Ad Book Committee for the Annual Italian Cultural Center Man of the Year Dinner for three years and served as Co-Chairpersons of the ad book for two years.
Joe and Maggie both agree that, "By being involved we have enjoyed the opportunity to meet so many wonderful people and in a small way contribute to the
organizations and causes that we believe in."
###