2010 IAET Man of the Year – Carmen W. Iacullo, Illinois Department of Transportation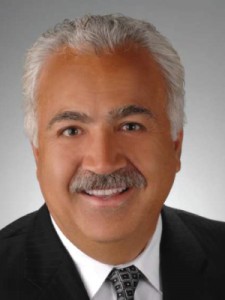 Carmen Iacullo
Carmen Iacullo is honored to be selected Man of the Year for 2010 by the Italian American Executives of Transportation
Recognized for three decades of commitment to the transportation sector, most notably as Deputy Commissioner for the City of Chicago"s Department of Transportation, Bureau of Inspections, and more recently, as Assistant to the Region I Engineer for the Illinois Department of Transportation, Carmen has dedicated his professional life to overseeing the safety and operation of our streets, bridges and highways. Commendably, he has done so in a manner consistent with the morals instilled in him from an early age and is regarded by professional associates as a man who is fair and respectful toward each colleague and subordinate, irrespective of their station in life.
Born in Chicago (1953), Carmen is the younger of two children born to Angelo and Nancy (nee Piegari) Iacullo. Both his paternal and maternal grandparents emigrated from the town of Ricigliano, in the province of Salerno, in the Campania region of South-Western Italy.
While both of his parents originated from Chinatown, Carmen grew up on the Northside of Chicago. At the core of his up-bringing was a close-knit family who took great pride in their heritage and traditions. Carmen"s fondest childhood memories are that of aunts, uncles and cousins coming together on Sundays and special occasions to share meals and stories of family. His sister, Donna Ferrarini, describes Carmen as responsible and dedicated, even from a young age. Both these traits he inherited from his mother, who worked twelve-hour days to support her family. Carmen was the first Iacullo to graduate from a University. He took summer employment as a laborer, both in the asphalt and sanitation divisions for the City of Chicago, and supplemented that with grocery stock boy and newspaper delivery work during the school year to help pay for his education. During this time, Carmen developed an appreciation for people from all walks of life, performing varying levels of service. His laboring position would also provide the opportunity to learn the fundamentals of city government services, which would aide him throughout his career.
Carmen graduated from Lewis University in Lockport, IL (1975) with a B.A. in Business Administration and moved into the administrative field of city government. Over the next 15 years, he was promoted to ever increasing levels of administrative responsibility within the Departments of Streets & Sanitation and Transportation.
In 1986, Carmen was nominated by City Treasurer, Cecil Partee, to serve as Employee Representative Trustee for the Laborer's Annuity and Benefit Fund of Chicago. He was appointed, and subsequently re-elected every two years thereafter by the membership. In 2000, Carmen was elected by fellow trustees to become President of the Fund, a title which he maintains to date, as Retiree Representative. With Carmen"s stewardship, the Laborer"s Fund has consistently been one of the State"s most well funded public pension funds.
In 1992, Carmen became involved in the largest in-house resurfacing program in the city"s history. The core of this bond program was the annual rehabilitation of 250 miles of residential streets and 125 miles of alleys. Near the completion of this eight- year project, and as a result of his involvement in the program, Carmen earned the Kathy Osterman Award for Superior Public Service (1996). This award honors individuals across multiple units of government who display excellence in their respective fields of service.
The following year, Mayor Richard M. Daley appointed Carmen to position of Deputy Commissioner within the Department of Transportation's Bureau of Inspections. In this capacity, Carmen led the rewrite of the city"s regulation for use of and work in the public way. This project came in the midst of both the commercial property and condominium boom along with the expansion of the telecom industry. These rules and revisions included provisions for the dedication and vacation of the public way, the coordination of utility work and joint builds, simplified fee structures, institution of moratorium locations and the uniformity of restoration work. In his biggest challenge to date, Carmen would exercise his leadership and management skills immediately:
"Within days of his appointment as Deputy Commissioner, there was a major water- main break on top of a CTA subway line and existing trolley tunnel at Lake Street and LaSalle," recalls Manoher Chawla, Chief Geotechnical Engineer, "Water Department personnel insisted on repairing the main without any regard to the trolley tunnel or traffic implications. I needed to determine if there were any breaches to the rail and trolley systems and wanted time to inspect and protect them prior to further excavation. With numerous water department managers wanting to override my recommendation, Carmen intervened and ordered that their work be completed subsequent to a full inspection and per CDOT specifications." Chawla continues, "This was the first of many difficult situations where Carmen listened prior to taking action, and supported his colleagues in undertaking the responsible approach as opposed to the popular one."
After 30 years of dedicated service to the City of Chicago, Carmen retired in January of 2004. His retirement, however, lasted only days and he was appointed by Secretary Timothy Martin to the position of Assistant to the Regional Engineer for The Illinois Department of Transportation in February. In this capacity, Carmen"s challenge is to develop and maintain a positive and responsive leadership role and to develop innovative solutions with limited personnel and funds.
"Carmen is truly the proverbial breath of fresh air at the department," says Diane O"Keefe, Deputy Director and Regional Engineer. "He continues to look for ways to improve the department while striving to be innovative in spite of the associated difficulties of changing the IDOT culture, departmental policies, labor contracts and fiscal limitations." O"Keefe continues, "Carmen has demonstrated professionalism and excellence and is most deserving of this recognition from his peers."
Throughout his many years of civic service, Carmen"s most important accomplishments have been that of husband and father. "I"m very proud of my husband," says wife Catherine. "With all of his years of hard work and late nights, he"s always made his family a priority." Children Joseph and Antoinette echoe their mother"s sentiments that Carmen is indeed, man of the year every year to them.
It is with great gratitude that Carmen accepts this honor as IAET"s "Man of the Year" for his service and dedication in the field of transportation.
###