2014 IAET Man of the Year – Terrence J. Hancock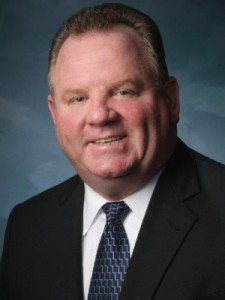 IAET 2014 Man of the Year
Terrence J. Hancock
Terrence J. Hancock joined the ranks of Teamsters Local Union No. 731 in 1979 as a rank-and file semi-dump tractor/trailer chauffeur. In 1989, he was appointed as a Business Representative of Teamsters Local 731 and was later appointed Recording Secretary. In 1997 Terry rose to the position of Secretary-Treasurer.
International Brotherhood of Teamsters General President James P. Hoffa appointed Mr. Hancock to serve as an International Representative assigned to the IBT Construction Division located in Washington, D.C. in 1999.
The rank-and-file membership of Local 731 elected Mr. Hancock, President of the Local Union in 2005. The following year, General President Hoffa appointed Mr. Hancock as the Central Region Coordinator of the International's Solid Waste, Recycling and Related Industries Division.
In 2007, Mr. Hancock was elected to serve as Trustee of Teamsters Joint Council No. 25 and in 2008 was elected Recording Secretary prior to becoming Vice-President of Teamsters Joint Council No. 25.
Mr. Hancock serves as Co-Chairman on the Board of Trustees of the Illinois Teamsters/Employers Apprenticeship and Training Fund and has been appointed to the Executive Board of the Chicago Federation of Labor. He also serves as Trustee of the Italian American Labor Council as well as a Delegate of the Amalgamated Bank Labor Council Illinois/Metropolitan Chapter.
However, Terry's proudest achievement is his position of President/Director of the "In Search of a Cure" Charitable Organization in honor of his beloved autistic son Bryan and on behalf of his entire family. A role that he humbly seeks no recognition.
###