2015 IAET Man of the Year – Ron Onesti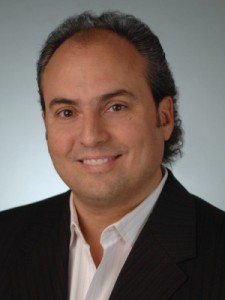 Ron Onesti, President of Onesti Entertainment
2015 IAET Man of the Year
Ron Onesti is an entertainment industry powerhouse recognized as an innovative leader across the country. With a passion for his heritage, he has provided enjoyment for countless lovers of the "Italian Experience" from Las Vegas to Hoboken, N.J.
The son of a tailor and a seamstress, Ron was born on Taylor Street in Chicago's Little Italy in 1962. He is the eldest of three children of Albert and Gabriella Onesti. His brother, Richard, his wife Kelly, and their son, Maximilliano; and their sister, Victoria, and her two boys, Ethan and Sebastian, round out the immediate family.
In 1987, Ron met the love of his life, Elena Chiesa, in the Columbus Day Parade Queen Pageant. With their marriage in 1996, Ron welcomed Elena's parents, Giuliano and Iole Chiesa, and brother, Gabriele, into his growing family. In March of 2005, Ron and Elena were blessed with a princess by the name of Giuliana Gabriella. Ron's many aunts, uncles and cousins are also a strong source of loving support.
Ron began as a busboy in a deli at the age of 12, learning how to "hustle" with an aggressive work ethic at a very young age.
As a marketing major at DePaul University, Ron began his entrepreneurial career by selling printing services after school, and donuts and coffee in between classes. It was not long before he had his own print shops. From there, he expanded into a sign shop, a sporting goods store, a silkscreen operation and a marketing/PR firm. His brother, Rich, was with him during each endeavor, every step of the way.
Earlier in the 1980s, Ron joined the Joint Civic Committee of Italian Americans. It was not long before he became president of its Youth Division, a post he held for an unprecedented five terms. He went on to serve as president of the Order Sons of Italy Pierini Lodge, also receiving its Leonardo da Vinci Award. He was chairman of the Italian American National Union Foundation's David Awards for more than 20 years, an active member of Amerital UNICO, and founder of Villa Scalabrini's St. Joseph's Table.
Ron has been an important liaison to the National Italian American Foundation, a supporter of the Italian American Veteran's Museum and a big supporter of Casa Italia, recently being named its Man of the Year.
For more than two decades, Ron has been an integral part of the National Italian American Sports Hall of Fame on Taylor Street. He has produced its Gala Weekend festivities for many years and was the lead designer of the museum's exhibits. He continues to be a supporter of the Joint Civic Committee of Italian Americans and the Columbus Day Parade as its Queen Pageant Chairman.
Ron is also a member of the Chicagoland Italian American Charitable Organization, Italian American Chamber of Commerce and Old Neighborhood Italian American Club. He was recently entrusted by the Consul General of Italy with the responsibility of producing the annual Festa della Repubblica in Chicago.
He is an accomplished writer, having been published more than 100 times. He had a column in Fra Noi Italian American magazine for more than a decade and served as editor-in- chief of the National Italian American Sports Hall of Fame's publication, Red White & Green. His weekly column "Backstage with Ron Onesti" in the Daily Herald is one of the newspaper's most popular features.
He has produced several projects for television, including a PBS special about kids against drugs and violence that garnered three Emmy Awards. He is currently a regular on- air host on the Chicago PBS station, WTTW Channel 11.
Ron has also appeared on numerous radio shows, including his own entertainment-based talk show co-hosted by his brother on FM radio in Chicago, and an entertainment based show on Chicago's WGN radio.
Ron is the president of Onesti Entertainment Corp., which produces concerts, special events and festivals nationwide.
A specialty of the company is the production of Italian festivals, something he is passionate about. In the Chicago area, he founded the current incarnation of Taylor Street's Festa Italiana and is responsible for Festa Pasta Vino on South Oakley Avenue and the Little Italy Fest-West in Addison. He has also coordinated and/or provided entertainment services for the communities of Carol Stream, Bloomingdale, Melrose Park, Country Club Hills, Elmwood Park and Park Ridge.
In 2005, he took over the Arcada Theatre, a 900-seat vaudeville theater in St. Charles that was founded in 1926, restoring it to its original splendor and using it to showcase local and national talent in the far western suburbs. It is now the No. 1 live music venue in the Midwest, with more than 200 shows annually.
Soon after, he transformed a nearby former church that was built in 1851 and converted it into an exquisite Italian steak house and Las Vegas-style supper club called the Onesti Dinner Club.
Ron was awarded the prestigious Ellis Island Medal of Honor, one of only three medals recognized by Congress, at an all-military event at the Statue of Liberty. The award has been bestowed upon seven U.S. presidents as well as leaders of business and entertainment legends.
By bringing major Italian superstars like Zucchero, Laura Pausini, Il Volo, Orietta Berti and many others to the States; producing hundreds of live performances on stages all over the country; and spreading the wonders of his Italian culture, Ron is living the American dream while bringing pride to his grandparents, who came through the gates of Ellis Island.
It is with great pride and humility that he accepts the 2015 Italian American Executives of Transportation Man of the Year Award.
###