2007 IAET Woman of the Year – Rosemarie Andolino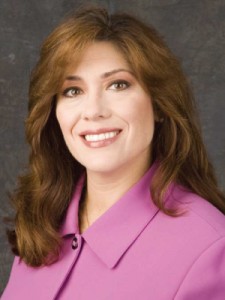 Rosemarie Andolino
2007 IAET Woman of the Year
ROSEMARIE S. ANDOLINO
EXECUTIVE DIRECTOR
O'HARE MODERNIZATION PROGRAM
In June 2003, Rosemarie S. Andolino was named the Executive Director of the O'Hare Modernization Program (OMP), Mayor Richard M. Daley's vision to build a 21st century airport at O'Hare. Ms. Andolino oversees a staff consisting of City of Chicago
employees, aviation industry planners, engineering and construction firms.
The OMP, a $6.6 billion program in 2001 dollars, reconfigures O'Hare's outdated intersecting runway system into a parallel runway configuration, substantially reducing delays and increasing capacity well into the future. The OMP also includes construction of a new terminal on the west side of the airport. The OMP will create up to 195,000 new jobs and $18 billion in economic activity to the region's economy each year in addition to the 450,000 jobs and $38 billion O'Hare generates today.
Under Ms. Andolino's leadership, the OMP successfully completed the Federal Aviation Administration (FAA)'s Environmental Impact Statement process, the most comprehensive level of review for an airport project. The FAA issued its Record of Decision approving the OMP on September 30, 2005, and the OMP successfully broke ground that same day.
Construction is currently moving forward on three runway projects including: New Runway 9L-27R, O'Hare's first new runway since 1971
The extension of Runway 10L-28R, and
The relocation of Runway 10C-28C
Runway 9L and the extension of Runway 10L are scheduled to be commissioned on November 20, 2008, with Runway 10C coming online in 2011.
Ms. Andolino has successfully worked with federal, state and local officials to secure funding for the OMP. In November 2005 former U.S. Department of Transportation Secretary Norman Mineta traveled to Chicago to approve the city's request for more than $300 million in federal funding.
The OMP has proudly embraced Mayor Daley's "green" vision and under Ms. Andolino's leadership, created the OMP Sustainable Design Manual (SDM) in 2003, a nationally- recognized document that allows O'Hare to evolve as the benchmark for environmental stewardship in design and construction for a civil project.
Modeled after the United States Green Building Council's "LEED" design standards, the SDM is a tool to evaluate and implement "green" initiatives on every OMP project.
The OMP's sustainable initiatives have won several awards including Mayor Daley's Greenworks Award, the United States Green Building Council's Small Feet, Large Feat award and Engineering News Record's Top 25 Newsmakers of 2006 Award.
Ms. Andolino has worked in various positions within the City of Chicago since 1990. Before taking the position of Executive Director for the OMP, Rosemarie had been with the city's Department of Planning and Development since 1999, serving as First Deputy Commissioner since 2001. In that capacity, she managed a $35 million budget, oversaw
$100 million of land acquisition and capital investments in the Neighborhoods Alive Program, and helped secure state and federal funding for numerous city projects.
Ms. Andolino has strong roots in her Italian American heritage. Her mother Helen was born in Partanna, Sicily, and came to the United States with her parents and seven of eight siblings on the ill-fated Andrea Doria's last successful voyage. Her maternal grandfather Charles Liotta was a shoemaker/cobbler in Partanna, the province of Trapani in Sicily.
Ms. Andolino's father Steve's family also hails from Sicily. Her paternal grandfather Sam's family is from Monte Maggiore, while her paternal grandmother Rose's family is from outside of Palermo, Altavilla Milicia. Her grandfather was called to serve in WWII, when her father was less than a year old. Upon returning from the war, he opened several businesses in the Little Italy neighborhood of Chicago.
Ms. Andolino has remained dedicated to the Italian American community throughout her life. She was a debutante in the Joint Civic Committee of Italian Americans (JCCIA) Italian Heritage Ball and the 1989 Columbus Day Queen. She has been recognized for her accomplishments and commitment to her heritage, having been awarded the 1996 David Award for Great Expectations in Government from the Italo American National Union and the 2003 JCCIA Impresa Award. She was recently featured in And They Came to America: The Italian American Legacy, a documentary tracing 150 years of the Italian American experience in Chicago.
She has received numerous professional accolades, including: 2007 Women's Transportation Seminar (Greater Chicago Chapter) Person of the Year; 2006-2007 Association of Subcontractors and Affiliates Chicago (ASAC) Public Service Award; 2006 Bradley University Outstanding Advisory Board Award; 2006 March of Dimes (Illinois Chapter) Transportation Award; 2006 Top 25 Newsmaker of the Year by Engineering News Record; 2005 Crain's Chicago Business 40 Under 40.
Ms. Andolino is a board member of Father Flanagan's Girls and Boys Town of Chicago and an advisory board member of the Women's Transportation Seminar Greater Chicago Chapter. She is also a member of the National Italian American Foundation, International Aviation Womens Association, American Association of Airport Executives, Airports Council International, City Club of Chicago, and has served on the executive board of the 2004 and 2006 International Construction Innovations Conference, sponsored by Bradley University.
A native Chicagoan, Ms. Andolino grew up in northwest suburban Elk Grove Village. Rosemarie graduated from DePaul University in Chicago with a B.S. in Marketing and a minor in Spanish. She is married to The Honorable Mark Fary and resides in Chicago's McKinley Park neighborhood.
###