2011 IAET Humanitarian – Anthony V. Fiacchino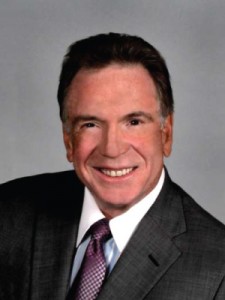 Anthony Fiacchino President, Aerostar Global Logistics
IAET 2011 Humanitarian
Anthony V. Fiacchino, CEO of Aerostar Global Logistics, respectfully thanks the Executive Board of the Italian American Executives of Transportation who have chosen him as IAET's Humanitarian of the Year for 2011.
Born in 1950, Tony grew up the eldest son of the five children of Anthony and Lucille (nee Mazzuca) Fiacchino. His grandfather Fiacchino emigrated from the small village of Roccaravindola in the Abruzzi region now called Isernia. His grandmother Fiacchino came from the very next village over, Colli al Volturno in the region of Molise—now also part of Isernia—located in the south-central area of Italy. Both of his Mazzuca grandparents emigrated from the Calabria region of Italy.
Tony's parents grew up on Taylor Street in Chicago, and Tony was raised on the city's west side. Both parents instilled in their son the importance of making a good living and taking care of the family. Tony's grandpa Vito Fiacchino, who laid pipe for a living, always taught his family that the main thing about working is not the kind of job you have, but rather doing it well with heart and soul.
Tony gravitated to the transportation industry by way of both inclination and family tradition. His Dad drove a truck for a long time; his Grandpa Mazzuca drove a horse and buggy and then a truck for the Railway Express Agency for 50 years— sometimes taking Tony along the route with him. Tony's Godfather, Rocco Monaco, worked for Wings and Wheels, the forerunner of Air Express International, and is the one responsible for pointing Tony toward his first transportation job with that company.
Starting with Air Express International in 1970, Tony has worked in the transportation industry for 41 years. With a growing family to support, he worked nights at a loading dock, making his way through the ranks to station manager and eventually regional vice president of AEI. Tony rose to become regional vice president of Northern Air Freight then full vice president of Danzas, and finally president of Air Sea Forwarders Inc.
Tony didn't stop there. In 2002, he founded Aerostar Global Logistics. This May, they will celebrate 10 years as a company. In 2005 he expanded Aerostar, adding AG Logistical Services, a North American truck brokerage with operating authority in Canada and Mexico. The company grew again in 2009 with the founding of Agrarian Distribution Group, which provides complete supply chain solutions to the micro-agriculture/lawn and garden community.
The Fiacchino family's rich Italian-Catholic values were a driving force in Tony's life, fostering a strong sense of obligation and responsibility to others who are less fortunate. Carol Lieggi, Tony's sister, explains that she and her siblings all learned to share and work as a team, living in a small house and always looking out for each other.
Tony's Grandpa Vito Fiacchino taught him to make wine, and along with passing down the vintner's art, urged him to take care of his family as he would the tender grapes for wine. Neglect them and they wither away; give them too much attention, and they may spoil.
The values learned from his family established Tony's belief in the necessity of ensuring the health and happiness of the next generation. He not only wants his children to know the warmth, security and loyalty of family, he hopes to see this spread to all families through the next generations. Tony's son Anthony has learned much from his father—his "greatest friend, mentor, and the pillar from which I draw my strength." He adds, "No matter what the situation, we understood that family is the most precious thing we have on earth. Protect your family and they will draw strength from you."
Tony considers his success as a gift and says, "It is incumbent on us to share that." He finds most life situations can be worked out following the verse from St. Matthew, "Inasmuch as ye have done it unto one of the least of these my brethren,