2007 IAET Humanitarian – Michele Longo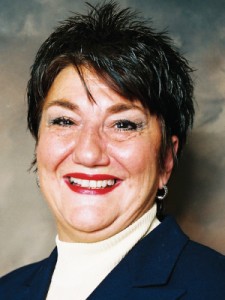 2007 Humanitarian Michele Longo
Michele was born in Chicago and is the fourth daughter of Peter and Angeline Longo. She graduated from Foreman High School and immediately joined the advertising firm of Tathum Laird and Kudner in their Television Production Accounting Department. Shortly she was promoted Company Production Assistant for Proctor & Gamble and Pringles Potato Chip account until she had her son Nicholas.
Following the birth of Nicholas she taught CCD for St. Bartholomew's Elementary School for the next few years. Michele enjoyed preparing second graders for their Reconciliation and First Holy Communion.
She then returned to the work place as a Case Manager for Rush Presbyterian St.Luke Hospital and presently is employed by J.P. Morgan Chase. Her son Nicholas recently married Patrizia Sorellino and they have given her a beautiful grandson Nicholas James.
Michele is also the President of the Order Sons of Italy in America's Law Enforcement Lodge # 1. She has been a member of OSIA since 2000 and is also a proud member of the Italian American Executives of Transportation.
###