2015 IAET Humanitarian – Sonny Nicotera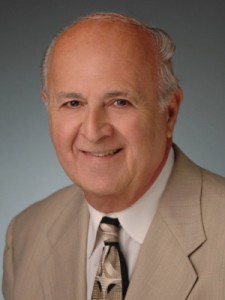 IAET 2015 Humanitarian
Sonny "Lou" Nicotera
Sonny Nicotera was the first child of Frank and Helen Nicotera, born and raised on 48th Court in Cicero. He is the proud brother of Denise Fratto and the dear uncle to Frank, married to Anastacia, and to Nick, married to Michelle. He is also the proud great uncle of Eliana.
While Sonny was still in his teens, he and his family moved to a house in Melrose Park that Sonny still calls home. His long and fruitful professional career began and ended in the food industry. He was the manager of dining car services for the Chicago and Northwestern Railroad until his retirement about 13 years ago.
Sonny has continued the old family traditions handed down to him by his parents and grandparents. He has an open- door policy, welcoming anyone and everyone into his home. There is always room for one more at his table. It is not uncommon to see 25 or 30 people gathered at his home on any given Sunday. His relatives all say that he is the glue that holds the family together.
Cooking comes naturally to Sonny. This is not only because of his food industry background, but because he was fortunate to have a marvelous cook for a mother. "Mom always said, 'If I have a pot of soup and a pot of gravy, I'm happy because I know I could feed anyone who walks in,'" Sonny explains. "And that is exactly what she did. She fed anyone who walked in." Sonny is also the official barbeque chef of the IAET, cooking up a storm at our annual picnic during the feast of San Francesco di Paola and other IAET meetings and functions.
Sonny's involvement with the Feast of Our Lady of Mount Carmel began in 1960, when he was asked to sponsor a candle house for one of the societies. With the help of others, this candle house was designed and constructed in Sonny's garage. That year, Sonny marched in his first procession, marking his initiation into the Feast tradition.
Over the years, Sonny's dedication to Our Lady has been exemplified by marching annually, carrying various candle houses, and participating as a statue bearer of Our Lady of Mount Carmel. A member and past chairman of the Our Lady of Mount Carmel Feast Committee, he is a Eucharistic minister, president of the Parish Council, and member of the Holy Name Society.
This great devotion to our Lady of Mount Carmel made Sonny the perfect choice for the Feast Committee's 2012 Man of the Year. "Perhaps the greatest gift I received that holiday season was when the Feast Committee asked me to be their Man of the Year," Sonny said.
Sonny has two passions in life. One is his yard, which is always filled with as many flowers as it can hold, and the other is Christmas. Sonny has acquired an extensive collection of Christmas decorations over the years, including more than 200 ceramic houses, which play a key role in his holiday celebration.
He and his nephews spend five long days creating an elaborate Christmas village each holiday season. They recently received great coverage of his village in a local newspaper and on ABC 7 news. "My parents would have been so proud," Sonny says.
Sonny belongs to several charitable organizations. He is a member of the board of directors of the Calabresi in America Organization and the Italian American Executives of Transportation, and a member of the Veteran's Park Senior Club in Melrose Park and the Joint Civic Committee of Italian Americans. In April of 2015, the Flowers of Italy Club honored Sonny as their Man of the Year.
Sonny pours a tremendous amount of time and effort into his volunteer work. He's not at all interested in taking bows and usually likes to work behind the scenes. Sonny has assisted the Missionary Sisters of St. Charles, helped with the food pantry and homeless shelter in Melrose Park, assisted in the IAET's clothing drive, helped secure school supplies for the IAET book bag drive, helped secure toys for IAET's Christmas Toy Drive for Dreams for Kids, and runs the IAET's Day at the Races to benefit Orchard Village.
###