2016 Man of the Year – Sam Cicinelli
IAET Bio
Sam Cicinelli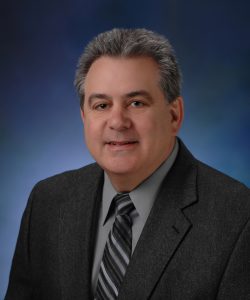 Sam Cicinelli is the leader of the largest Mechanic's Union in the country. He is the Directing Business Representative of the International Association of Machinists and Aerospace Workers (IAM), Automobile Mechanics' Union Local 701 representing more than 6,400 active members and over 4,200 retired members. He is extremely proud of his heritage and has always displayed a passion to help those in need.
Sam is the son of Ursula, who worked as a beautician and Vito, his father, who worked multiple jobs to provide for his family. He was born in 1966 in Chicago's northwest side neighborhood. He is the third child of four. His siblings are Angela, Mark and Tom.
In 2005, Sam met his current wife, Sandra (Badalamenti), who both were previously married and were given a second chance at love. Sam fell in love with Sandy and married in 2008. Sandra's son Anthony (Bellantuono), joins the beautiful family Sam and Sandra were blessed with which includes a set of twins, Giuliana and Nicholas, as well as the youngest, Dominic. Sandy is extremely supportive of Sam and the work schedule associated with his profession knowing the importance of how Sam feels helping the membership. Sam's success cannot be discounted by the work Sandy does at home running the household..
Sam began working at an early age as a paperboy as well as a cashier at a local drug store while in grammar school. Thereafter, while in high school, he worked as the high school custodian full-time to help his parents pay for his high school education.
He went to the University of Illinois at Chicago and Oakton Community College to earn his Associates degree while working full time for the Cook County Forest Preserve.
After earning his Associates Degree he went on to pursue a degree in Automotive Technology at Lincoln Technical Institute. Upon receipt of his degree he was hired at a Cadillac/GMC dealership where he worked for twelve years as a Master Technician. While working Sam also served as the shop steward as he always seemed to be the one to help those at work in need. He was the voice and the one always defending the worker who was wronged. Sam was always there to make it right on behalf of the worker. He also served as the Vice-President on the Executive Board for IAM Mechanics' Union Local 701.
In 2000, Sam was asked to serve full-time for his Union as an Organizer. He was then asked to serve in the capacity as a Business Representative in late 2001. He continued with his passion defending and representing workers in their employment relationship. He negotiated several agreements, pursued hundreds of grievances and arbitrated several arbitrations on the Union's member's behalf. There is nothing more fulfilling to Sam than doing what he is currently doing on behalf of the membership.
While working as a Business Representative, Sam decided to return to school to further his education to better represent his members. He earned his Bachelor of Arts Degree in Labor Studies at the National Labor College in Baltimore in 2005. Thereafter, he continued his education and earned his Master of Arts Degree in Legal and Ethical Studies at the University of Baltimore in 2007.
Sam was appointed as a Trustee on the Mechanics' Union Local 701's Health and Welfare and Pension Funds. He also set up the Union's website and was the webmaster until he became the Directing Business Representative. He was the assistant editor of the Union's newsletter from 1995 until becoming the editor in 2002.
Since becoming a Business Representative, Sam has had a dream and a drive to create a Union's Apprenticeship Program. Today that dream has become a reality with the dedication of Sam's hard work and persistence. He built the Union's current Apprenticeship Program from the ground up. The success of the Program continues to expand and is appreciated as there is a dire need for properly trained and skilled technicians in the field he represents.
Sam also started the Union's 401(k) Program from the ground up where he is the Chairman of that Fund. He understands the importance of providing for a comfortable retirement to allow our members to retire in dignity with yet another savings method in addition to the Union's Pension Plan.
Sam is the most progressive Union leader IAM Mechanics' Union Local 701 has experienced. He has changed many things for the better for the membership. In addition to creating the Apprenticeship Program and the 401(k) Program, he also started a Scholarship Fund and a Benevolent Fund in an effort to give back to the members of the Union in need.
In summary, Sam has always had a passion and the drive to assist those in need. He continues to be determined to level the playing field to give everyone a fair chance in their lives. He's a dedicated family man who also feels very strongly about his family and providing for them. Some would view their job as "just a job" but to Sam he couldn't imagine doing anything other than what he's currently doing – being responsible for thousands and ensuring they can provide for themselves and their families.
In looking at the years past of recipients of the Italian American Executives of Transportation Person of the Year Award, he humbly accepts the prestigious honor for this year's award. Sam feels this award comes with a tremendous amount of pride and is honored accepting this award.
***