IAET 1997 Man of the Year – Michael N. Bechina
Michael N. Bechina
1997 Man of the Year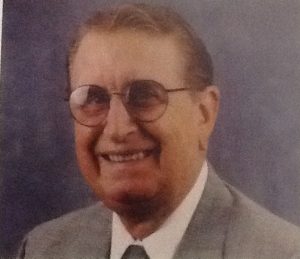 Michael N. Bechina, founder and chairman emeritus of Carmichael Cartage, started the business with almost nothing and built it up into a thriving family enterprise. The transportation industry and the community have greatly benefited from Mr. Bechina's dedication and achievements through the years.
Though Mr. Bechina had been in the business for almost 50 years, his first passion was music. He played the guitar for the first time as a young boy and immediately fell in love with the instrument. Joining a band and playing several values throughout his young adult life, Michael's musical highlight was playing for an international audience at the Italian Village in 1933, as part of the World's Fair celebration.
Shortly thereafter, Mike Sr. was faced with the harsh realities of life as a musician and had to take a side job ad Consolidated Freight of Michigan to pay the bills. In 1940, he was put on as a broker for the company which enabled him to buy his own truck.
During World War II, Mr. Bechina made daily deliveries to international Harvester, a defense plant in Melrose Park, and was considered essential to the war effort, receiving 2A classification. Though he did not serve in the armed forces, Mike sometimes jokes he "fought the battle of Melrose Park".
This was the beginning of his trucking experience and the beginning of something much more for the transportation industry. It was 1951 when Michael and his wife, Irene, founded Carmichael Cartage with two tractors, two trailers, and a limited account base. But within only five years, Carmichael, dubbed the "champagne of service," had accumulated a fleet of tractors, trailers and straight trucks.
Carmichael's principle mission is to provide the finest equipment, the most qualified drivers and the highest quality of service in the Greater Chicago and Metropolitan area while continuing to grow and adapt to meet the ever-changing needs of the transportation industry. When it comes to total distribution needs, Carmichael is Chicago's finest.
Mike Sr. spent the next 40 years building a strong family business and retired, leaving Carmichael in the capable hands of his twin sons Melvin and Michael, and his daughter Mary Lou. Mel's son, Max and daughter Brandy have joined the company after they graduated from college, representing a third generation to carry on the business.
Besides their three children, Mike and his wife, Irene, have five grandchildren, two great grand children and another great grandchild on the way.
***