2005 IAET Italian Civic Pride – Frank A. Pasquale – Mayor of Bellwood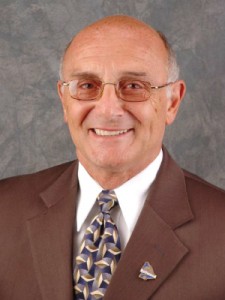 MAYOR FRANK A. PASQUALE VILLAGE OF BELLWOOD, ILLINOIS
Frank A. Pasquale was born on July 7, 1937 in Oak Park, Illinois. He attended St. Philip High School in Chicago. In 1963, he married Vivian and out of this union, Maria and Frank Jr. were born. Frank and Vivian Pasquale have resided in the Village of Bellwood for forty-three (43) years.
At an early age, Frank knew he had a passion for teaching and, as a result enrolled in the University of Illinois' educational program in Champaign, Illinois. In 1961, he obtained his Bachelor of Science in Secondary Education. However, he would not stop there, with dedication and determination, he pursued his Masters in Education (specifically in the area of School Guidance and Counseling) at Chicago State University. His perseverance paid off and in 1964, he graduated with honors in addition to receiving a Specialist Certificate in Corrections.
In 1976, Frank reached the pinnacle, one might say, and obtained a Doctorate of Education in Behavioral Science and earned the distinction of being addressed as Dr. Frank A. Pasquale.
While actively pursuing his professional ambitions, Dr. Pasquale was also involved in various community activities. He was a consultant to the Corrections Department at Chicago State University and was a member of the State of Illinois, Departments of Corrections Task Force on Vocational and Educational Training. His commitment to ensuring that his fellow citizens received quality education would be the determining factor for him to serve as a member of Bellwood School District 87's Advisory Board. During his membership, and under his leadership, the school would undergo significant changes to promote academic excellence and improve overall academic achievement amongst its student body.
Dr. Pasquale's work history includes a period as the Director of Guidance and Counseling/Instructor at St. Joseph High School in Westchester, Illinois and also at St. Patrick High School in Chicago, Illinois, and a part-time Consultant in the Corrections Program at Chicago State University. Additionally, he enjoyed a ten year tenure at Chicago State University as an Instructor. To add to his impressive credentials, Dr. Frank A. Pasquale also obtained a Counselor/Public Relations post at Wilbur Wright College in Chicago.
His interest and involvement in the development of Bellwood's community has been well documented. Since 1980, he has served as a Commissioner on the Memorial Park District. This position requires that he serves residents of six (6) western Chicago suburbs. Eventually, he became a judge for the Annual Junior Citizen's Award Program sponsored by the Chicago Park District. In addition, he served as Site Coordinator for Mayor Daley's Summer Youth Program, which, among other responsibilities, required the securing of summer employment for the youth. His civic involvement would lead to him
serving as the Coach and President of the Bellwood Little League and Chairman of the Italo American National Union Youth Activities. He also served for three (3) years as a Board Member of the Oak/Leyden Developmental Services. In 1996, he was elected as a Trustee in the Village of Bellwood, serving in this capacity would mark the beginning of an outstanding political career.
In 2001, Dr. Frank A. Pasquale would embark on the highest accolade of his political career – he would run for Mayor of Bellwood. His political ambitions and proven record would be the nucleus behind his resounding victory and election as Mayor of the Village of Bellwood. As Mayor, he has been instrumental in the Village of Bellwood and Triton College, offering G.E.D. classes to those residents who had not obtained their high school diploma. If that wasn't enough, he was the force behind the Village of Bellwood and Benedictine University offering Bachelor and Masters Degree Programs available to all residents. His clarion call has been: "The only way for residents to sustain themselves economically, is if we offer them the resources and tools for high-valued-added jobs."
Dr. Frank A. Pasquale frames the basic issue of politics this way: "We need some balance between community and mutual obligation on the one side, and the need for competitiveness and market incentives on the other. The biggest challenge of any government is to articulate a plausible solution to this problem." Consequently, he has "persuaded" the hand of the legislator and business conglomerates to "buy in" and invest in the overall economic growth and social stability of Bellwood. A fear not easily accomplished.
Mayor Pasquale's love for people keeps him actively involved in the community. His experience and training has assisted him to overcome adversities and obstacles. His earlier teachings have inspired him when words were not enough. His principles have sustained him when others felt like quitting and propelled him to great heights and he has "walked the walk and talked the talk!" Great shall be his reward!
Dr. Frank A. Pasquale – Mayor, Director, Commissioner, Educator, Husband, Father, Grandfather, Organizer, Communicator and Resident. He has believed the improbable – possible; he has moved the untouchable, and accomplished the unthinkable.
"May the work I've done speak for me."