IAET 2016 Special Recognition Award Excellence in Broadcasting – Vince Gerasole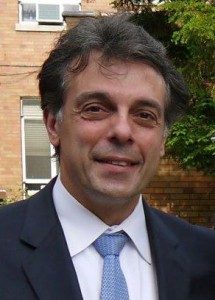 IAET 2016 Special Recognition Award for Excellence in Broadcasting
VINCE GERASOLE
Vince Gerasole serves as a general assignment reporter for CBS 2 Chicago. Gerasole joined the station in April 2001, and since that time he has anchored and reported for various station newscasts.
Gerasole has been honored for excellence in broadcast journalism throughout his career. He was named the Best Broadcast Reporter in the state by the Associated Press of Illinois in 2002 and Best Newswriter in 2006 and 2007. He's received 14 Emmy Awards for his work at CBS 2 Chicago, including three for outstanding individual reporting (2003, 2004, 2005), two for outstanding writing (2006 and 2007) and one for "Illinois Getaway Guide (2007)", a half-hour special he wrote and hosted. In 2011 he received an Emmy for Best Spot News Coverage while broadcasting live from the blizzard that trapped over 900 cars for nearly a day on Lake Shore Drive.
Gerasole was honored by the Associated Press of Pennsylvania for Best Spot News Coverage. He received the Leonardo DaVinci Award for "Excellence in Communications," from the Illinois chapter of the Sons of Italy, and "The David Award," from Illinois' Italo-American National Union. Both awards honored his commitment to the community. Gerasole is also the 2006 recipient of the Dante Award from the Joint Civic Committee of Italian Americans. He is a three-time James Beard Award nominee for Excellence in Broadcast Food Reporting. Before working at CBS 2 Chicago, Gerasole was a general assignment reporter at WSB-TV in Atlanta, Ga. Prior to that, Gerasole worked as an anchor and reporter at KHNL-TV in Honolulu, Hawaii.
He also served as a Capitol Hill and White House correspondent in Washington, D.C., for Cox Broadcasting, and worked as an anchor and reporter at WPXI-TV in Pittsburgh, Pennsylvania and KCRL-TV in Reno, Nev. Gerasole, who is fluent in Italian, began his broadcasting career as a New York based field producer for the Italian Network RAI.
Vince graduated from Northwestern University with a B.A. in Political Science and Italian, and attended the University's Medill School of Journalism. He is a native of Pittsburgh, Pennsylvania.
Gerasole, his wife and two daughters make their home in Evanston.
***