IAET 2002 Man of the Year – Vito P. Cali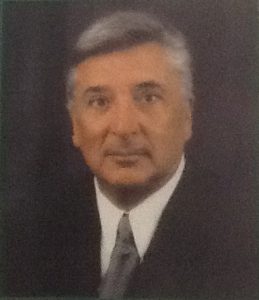 Vito P. Cali
2002 Man of the Year
Vito P. Cali is President of the Joint Civic Committee of Italian Americans and President of the Vito P. Cali Agency of State Farm Insurance.
The son of American citizens, Cali was born in Ciminna, Sicily and moved with his family to the St. Philip Benizi Parish on Chicago's Near North Side. He attended Manierre Grade School, Lane Tech High School, and DePaul University, where he majored in marketing.
Shortly after he was married, he was drawn to State Farm as a result of a positive experience with a State Farm agent. Vito became a state Farm agent in 1964 and has been one of the Company's top performers ever since. He is a member of the President's Club, a distinction achieved only after being in the top in sales for five or more years in a row. One of the insurance company's first Italian-American agents, Cali is proud to point out that there are countless State Farm Agents of Italian descent across the Chicago area.
Vito has been active in the organized Italian-American community of more than three decades. He was one of the founders of the San Giovanni Bosco society for Ciminna, serving as its president from 1960 to 1981 and holding the post of president emeritus since then. He has been chairman of the JCCIA membership committee and a member of the presidential advisory committee.
Cali was a member of the board of directors of Community Bank of Edgewater and United Financial Mortgage Corp., a member of the advisory board for Westbank. He is a board member of the Maroons Soccer Club, the Casa Italia, and vice-president of Scoa, Inc.
Vito and his wife Lee Ann have been married for forty-one years and have three children and six grandchildren.   Lee Ann is the administrator of the Vintage on the Ponds Nursing Facility in Delavan, Wisconsin; his daughter Vicki is a realtor in the Lake Geneva area; his daughter Joni is a defense attorney for State Farm; and his son Phillip is a State Farm agent in the southwest suburbs.
The Italian American Executives of Transportation are honored and proud to have Vito P. Coli, as our 2002 Man of the Year.
***