IAET 1990 Man of the Year – Tony Sacco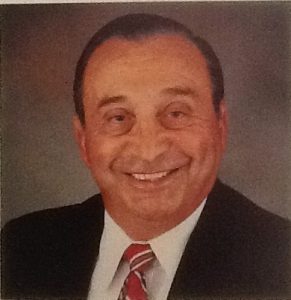 Tony Sacco
1994 Man of the Year
Tony Sacco is a native of Chicago who graduated from St. Ignatius High School lettering in football, basketball and track.
While compiling an illustrious college football career Tony completed his Degree in Chemistry at St. Ambrose University which lead to him being named to the "Chicago Tribune College All Star Squad" and drafted by the Pittsburg Steelers of the NFL.
Tony's professional football career was prematurely cut by an injury, but Tony overcame this adversity to become a successful football and basketball coach, a collegiate and NFL official and a successful businessman as President of Tony Sacco Pigments & Solvents, Inc.
He proudly served our country as an ensign in the U.S. Naval Reserve. But in spite of all these ac­complishments Tony is proudest of his family. A devoted family man he and his lovely wife Della have been blessed with four wonderful children, and thirteen adoring grandchildren.
We are honored to have Mr. Tony Sacco as our Pro­fessional Man of the Year, because he exemplifies true success.  The ability to laugh often and love much.
***