Please click here for a golf flyer! Golf 2018
Wednesday, August 15th, 2018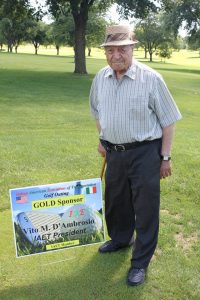 Seven Bridges Golf Club

1 Mulligan Drive

Woodridge, IL 60517

(630) 964-7777
Price includes: Shotgun Start, 18 Holes, Goodie Bag, Golf Shirt or Lawn Chair
Buffet Breakfast 8:30-9:45 AM – Coffee cakes, scrambled eggs with cheese, smoked bacon, breakfast sausage, seasoned potato medley, fresh fruit tray with chilled assorted juices, coffee
Lunch Barbecue 11:00-2:00 PM – Grilled chicken sandwiches, hamburgers, Italian sausage, or hotdogs, sides etc
Dinner Banquet 4:00-7:00 PM – Wine on the table. Menu: Caribbean chicken, grilled NY strip steaks, tenderloin tips, baked or mashed potato bar, garden salad, dinner rolls & flavored butter, plated assorted pastries on each table. Includes water, iced tea, and lemonade station.
Registration is 8:00 AM – Shotgun Start at 10:00 AM – Dinner at 4:00 PM
Your choice of Slate Gray Polo Golf Shirt (Man/Woman) or a red Rolling Cooler! Additional Shirt/Cooler can be purchased!
Be sure to state your size for the Golf Shirt.
$170.00 (4=$680.00)            Golfer/4-some      
$ 50.00                                    Dinner Only
$30.00                                     Per extra Golf Shirt or Cooler
PLEASE Send Shirt Size by Golf Form !
Be A Hole Sponsor
$100.00                                   Hole Sponsor
$200.00                                   Sliver Sponsor
$300.00                                   Gold Sponsor
$500.00                                   Platinum Sponsor
Underwriting Opportunities
$ 400.00                                  Massage Therapy (2 Max)
$ 500.00                                  Goodie Bags (3 Max)
$ 800.00                                  Golf Shirt/Cooler (3 Max)
$ 800.00                                  Lunch (2 Max)
$1000.00                                 Dinner (3 Max)
$1000.00                                 Golf (7 Max)