Please Click Here:  Pasta Dinner Flyer 2018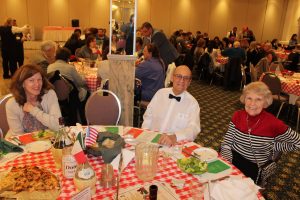 IAET Proudly Present Our 12th Annual
Enzo's Pasta Party
Pass the Pasta Please!
Live Entertainment by Jack Miuccio

Saturday, February 17, 2018
6:00 pm to 11:00 pm
Alta Villa Banquets
430 N Addison Road
Addison, IL 60101  –  1(630)543-1222
Pasta and Meatballs, Tossed Salad, Bread and Butter, Full Size Cannoli/Pastry, Coffee, Fruit
Beverages and other items for purchase – Pasta Olio e Aglio, Sausage
Come anytime you like, no set serving time – Stay as long as you like!
Raffle tickets will be available for sale.
$18.00 per Adult (Age 13 and plus years old) In Advance by Monday February 12, 2018
$15.00 per Pre-Paid Group Rate of 8 Adults or more In Advance by Monday February 12, 2018
$18.00 per Adult (Age 13 and plus years old) Will Be At The Door or on Paypal after Monday February 12, 2018
$ 8.00 per Child (Age 5 – 12 years old)
Free per Child (Age 4 years old and under)
Sponsor the Pasta Party
$ 50.00   Sausage Sponsor
$100.00   Meatball Sponsor
$200.00   Golden Fork Sponsor
$500.00   Pasta Bowl Sponsor